A Sit Down With DJ Kronic
12:52 Oct/31/2017
Luke Celleja, aka
Kronic
, is an Australian born DJ who has worked with countless artists, such as Justin Bieber, Pitbull, Jennifer Lopez, R Kelly and Havana Brown.
Kronic
started his career as a hip hop DJ in Adelaide, over 10 years ago, and is now a successful and well-known name around the world at the age of 30.
"Rendezvous" is the latest EDM track from
Kronic
, and features stunning vocals from Leon Thomas. The song was released on the 19th of April, and in just one week, had climbed into the iTunes Top 100 US charts.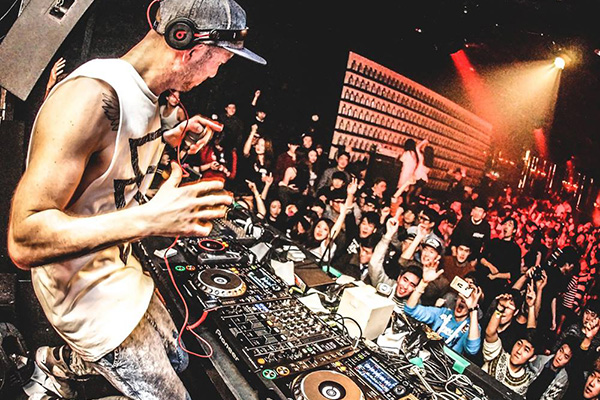 Where does the name Kronic come from and why did you pick it?
I wanted a name that had a lot of samples that I could use in DJ routines. That`s why I chose "Kronic", because there`s dozens of records where rappers use that word that i can and do sample from.
Who were some of your favorite people you've worked with?

Lil Jon and Pitbull are some of my favourite people to work with. As a DJ, I grew up on their records, and when I met them on a personal level, they were both super humble. They've accomplished things beyond most artists wildest dreams, but you'd never guess it from the way they act. On the flip side, Nikki Jean is one of the most talented and brilliant artists I've ever had the opportunity to work with. Nikki takes my ideas, and helps me transform them into complete visions. She actually appears on almost every track of my EP – it's almost as much hers as it is mine.
What type of events do you prefer, smaller intimate venues or the larger concert?
I've been doing intimate venues for a decade now, festival stages are relatively new to me, so I'm having way more fun with that! My past records really belong on the big stages, so watching them translates to crowd's over 10 000 is an overwhelming sensory experience. I still got love for the small sweatboxes tho, always.
Tell us the story of how you started creating music on your computer?
I started using Ableton to make DJ mixes, and then it was edits, and then mash ups and remixes, and then I got onto writing original records.
"Back then, making music wasn't even on my radar, I was just trying to DJ as much as I good".
What does it takes to become a successful DJ and Producer?
Everyone defines success in their own way, but this is my take on it: Apart from the practice required to master the technical skills of both DJ'ing and production, it takes a creative mind put those skills to use. Creativity doesn't come naturally to everyone, but it's defiantly something you can develop. Learn to take advice, and learn when to ignore it. And finally, hard work isn't necessarily spending your entire life in the studio writing music; hard work is spending hours on the things you don't particularly like! It takes me hours every week to edit tracks so they suit my DJ'ing style, and it isn't particularly exciting – but it's necessary for me to deliver the performance.
You've worn quite a few hats in the entertainment industry – DJ, producer, artist. What have you enjoyed doing the most?
DJ, Producer and Artist are actually all intertwined creative processes for me. Being a DJ has influenced my production more than any other single thing, and that in turn has helped me develop as an Artist.
That said, the artist hat fits best. Music is about story telling, and I like telling my stories the best. Not because I'm an ego maniac, but because I have a such a deep connection with the story and inspiration behind each of my songs.
Who is the biggest Influence of DJ Kronic actually?
I am very much influenced by Kanye West , Carnage . They are one of the inspirations in music. I really like Old School Hip hop, RnB, Trap and they are the very right choice for me.
Do you have any mentors?
Kanye West & Quentin Tarantino are the artists I look up to the most. Their dedication to their art is unparalleled. Whenever I watch interviews with them, I'm constantly inspired by the passion they have for their craft, and their depth of knowledge in their field. Kanye could talk for hours about a 3 minute song the same way Quentin could write an essay explaining a brief scene in his films. Every detail is by design, and every element exists for a specific reason that adds to the whole. Think about the intricacy of a Kanye record, like Runaway. And then turn on the radio and all you hear is a bunch of loops that sound just like someone else's bunch of loops.
What's the difference between Australia and U.S. club scene?
The US club scene has a very healthy amount of Hip Hop being played in it. It's common to see DJ's playing Deadmau5, Jay-Z, Rick Ross, Disclosure and Afrojack all in one set. Australia has a very educated dance scene, lot's of genre specific venues – bounce clubs, commercial, deep house joints.
You seem to tour, what were some of your favorite destinations?
In the US, Scottsdale in Arizona is one of my favourite places to play. It's a college town, so it's filled with tens of thousands of college kids ready to get wild. South Korea and Japan are two of my favourite. The festivals and venues I play there are mammoth, and the crowds are rabid. And then know all the words to my songs!! That's amazing – that people in non-English speaking countries can sing along to my songs. It's a humbling experience.
Do you still listen to hip hop? If so who's on your current playlist?
I listen to more hip hop then ever now! I've been really get into Big Krit lately, and I can't fucking wait for new Big Sean and Kanye albums.
Do you have a key production tip for your young producers out there?
The most important one is this: Collaborate - work with anyone and everyone you can. There`s something to learn from everybody on this planet.
https://soundcloud.com/dj-kronic-1/kronic-mclt-king-kong-set
Latest news
Back to news